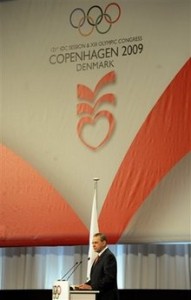 For the first time in over a century, golf will be back as an Olympic sport. A strong presentation was made in person to the Olympic committee in Copenhagen headed by PGA Tour VP Ty Votaw also featuring PGA and LPGA tour stars Padraig Harrington, Suzann Petterson and Michelle Wie. Tiger Woods and Ernie Els also shared their sentiments via video from the President's Cup.
Wie delivered a particularly moving speech casting a vision of herself dreaming of a chance to sink a putt to beat Tiger or Ernie.
"I can dream about doing something that neither Tiger nor Ernie (Els) have ever done, and that is to make the final putt to win an Olympic gold medal," Wie said. "If this dream comes true, somewhere in the world there will be another 4-year-old who sees me on that podium and perhaps starts her own Olympic dream."  -Michelle Wie

Jack Nicklaus also commented:

"I think it's fantastic, an unbelievable day for the game of golf,"  "The impact is going to be felt all over the world, which is what I've always felt about the game. The game is a mature game in many countries, but it never had the opportunity to grow in many others. People of all walks of life will be inspired to play the game of golf, and play for sports' highest recognition. For all sports, that has been a gold medal."  -Jack Nicklaus
Golf will be back at the 2016 Olympics in Rio as well as the 2020 games where the location has yet to be announced. The format will be a 72-hole stroke-play tournament for men and women, with 60 players in each field.